Skip to Main Content
It looks like you're using Internet Explorer 11 or older. This website works best with modern browsers such as the latest versions of Chrome, Firefox, Safari, and Edge. If you continue with this browser, you may see unexpected results.
FEDERAL DEPOSITORY LIBRARY
The University of South Alabama (USA) Libraries have been a Federal Depository since 1968.
Elvis & Nixon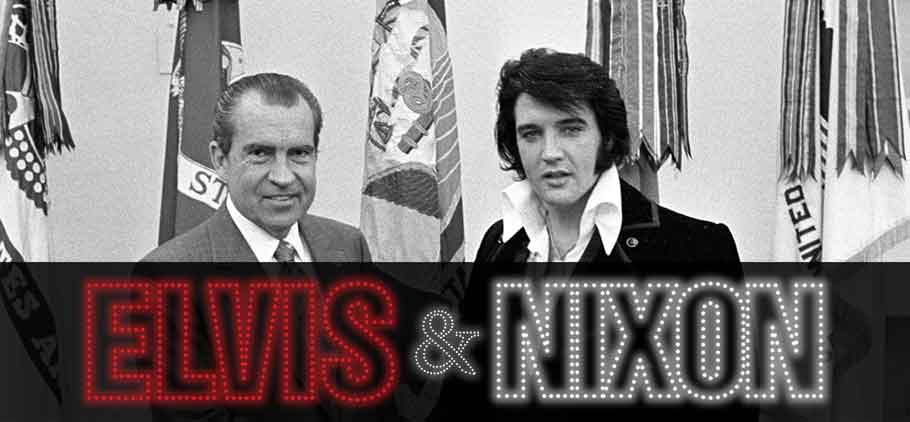 Web Resources
Echos of Elvis Online Exhibit

National Portrait Gallery
The world of visual art has also become a repository for images of Elvis—tributary, allegorical, and satirical. Today, Elvis is the subject of works—in every form and medium possible—by artists from all over the world. His face is no longer the face of the man who sang, danced, and played the good guy on the silver screen; rather, it is the face of an icon whose character echoes the views and passions of the artists who portray him.

Elvis Presley: The Early Years

Elvis was born in Tupelo, Mississippi, on January 8, 1935, in a two room shotgun house in East Tupelo, then a separate municipality that some called the "roughest town in north Mississippi."

Elvis Presley's Letter to President Richard Nixon

National Archives
On the morning of December 21, 1970, Elvis Presley personally delivered a letter to the northwest gate of the White House. Written on American Airlines stationery, the five-page letter requested a meeting with President Nixon. Presley intended to present the President with a gift of a World War II-era pistol and obtain for himself the credentials of a federal agent in the war on drugs.

Elvis Presley's Military Career

Elvis Aron Presley entered the United States Army at Memphis, Tennessee, on March 24, 1958, and then spent three days at the Fort Chaffee, Arkansas, Reception Station. He left active duty at Fort Dix, New Jersey, on March 5, 1960, and received his discharge from the Army Reserve on March 23, 1964.

FBI Records: The Vault - Elvis Presley

Elvis Aaron Presley (1935-1977), rock-n-roll singer and movie actor, was not investigated by the FBI. His name, though, appears in many different FBI files. Presley was the target of many extortion attempts investigated by the FBI. Reactions to his music and stage presentation led concerned citizens to write the FBI suggesting that it investigate Presley; we did not. And there is correspondence regarding Presley's interest in meeting Director J. Edgar Hoover.

President Richard Nixon Meets with Elvis Presley during Open Hour in the White House Oval Office

In this photograph President Richard Nixon examines Elvis Presley's cuff links. Assistant Egil Krogh stands nearby.
Government Documents Librarian & Depository Coordinator
Vicki Tate
LibGuide Information
This LibGuide was originally created by Paula Webb and is currently being updated by Vicki Tate. If you have any questions regarding content, email: vtate@southalabama.edu
Last major revision: 12/22/19
LIBRARY LINKS
SOUTHcat (USA Libraries Catalog)

SOUTHcat is the catalog for the libraries at the University of South Alabama. Use this to find records for books, electronic books, media items, and government documents in our collection.

Databases & E-Reference

The list of electronic databases and reference sources subscribed to by the Marx Library. Use this link to find newspaper, magazine, and academic journal articles from a variety of sources.

Our Journal/E-Book List

The list of newspapers, magazines, and journals subscribed to by the library. Use this to search a specific periodical or to locate a citation.

Ask a Librarian

Contact information for the reference department at the Marx Library. Includes phone, email, and live chat information.